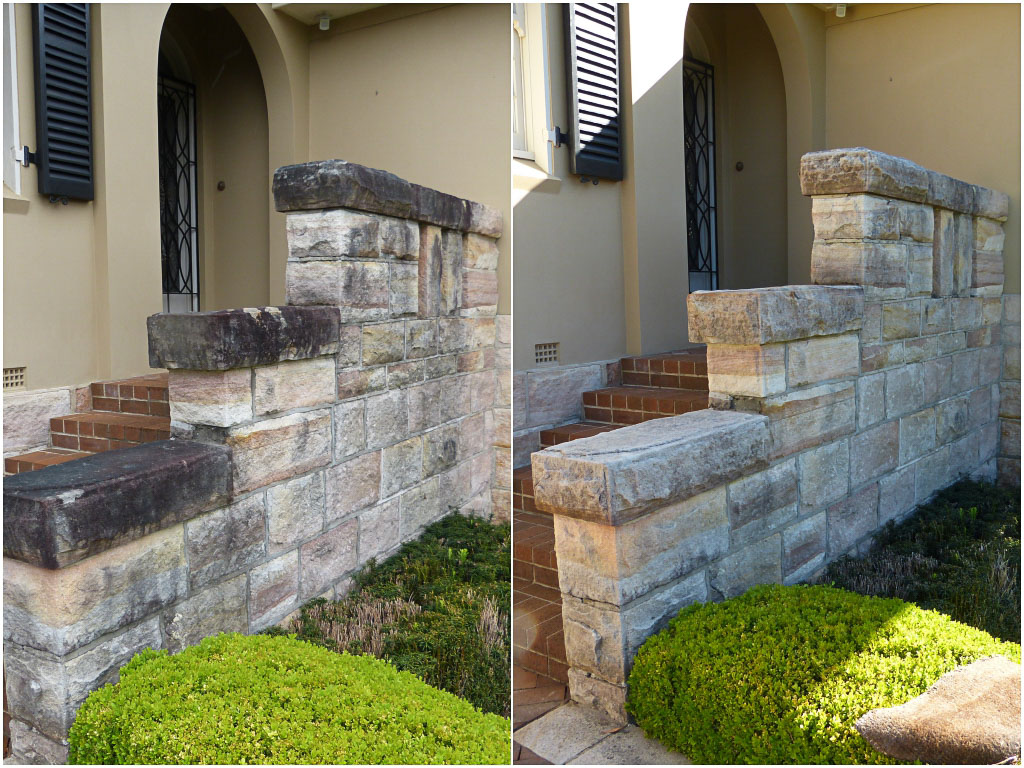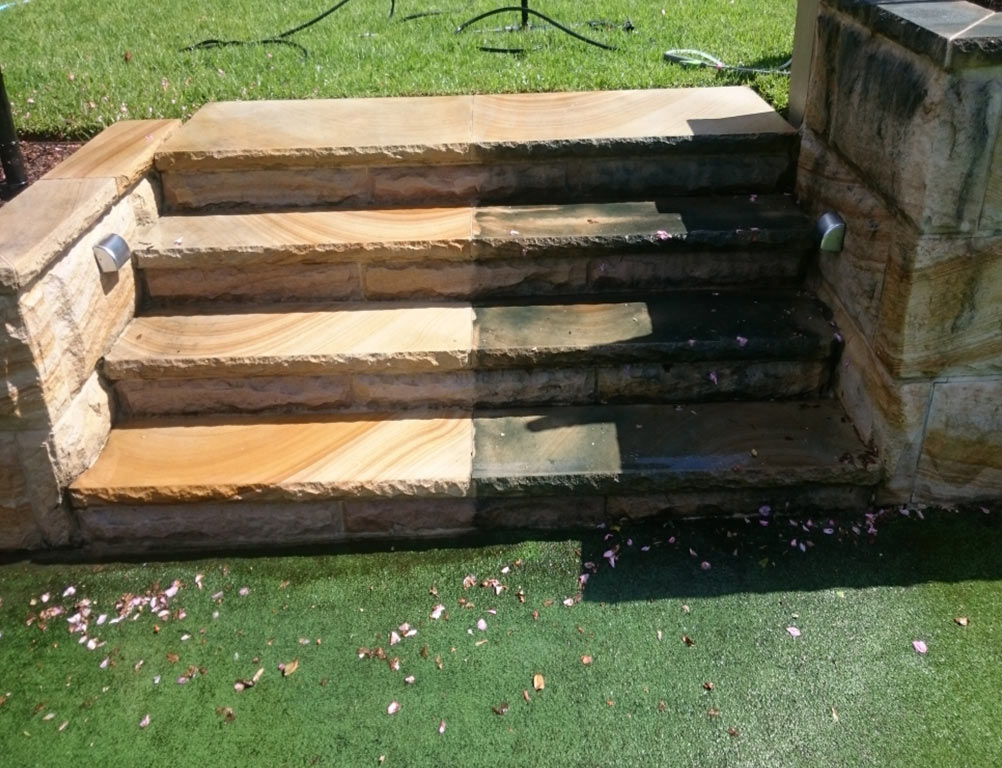 Do You Want Your Beautiful Sandstone To Be The Stand Out Feature Of Your Property?
Is your sandstone looking a little worse for wear or becoming a little slippery? Sandstone is a beautiful building material that is a stand out in any property. Over time it can become discoloured and slippery from exposure to the environment. However not all sandstone's are the same and it comes in many different types and forms. From hardened Himalayan sandstone to the soft Sydney Gosford sandstone. Each needs to be cleaned differently and carefully so as not to permanently damage its surface or the grout holding it in place. A Clean Approach House Washing has been specifically trained in sandstone cleaning and restoration. In our pursuit for the best results we have developed a process which not only restores the look of your sandstone, but also protects it from damage.
A Clean Approach House Washing sandstone cleaning process involves the careful application of a specialised sandstone cleaner to help lift the dirt, pollution and build up off the surface of the sandstone. What is unique about our cleaner is that it kills the mould, lichen at its roots avoiding the need to use high pressure cleaning on such a delicate surface. A Clean Approach House Washing then uses a soft washing process to clean the sandstone which protects the integrity of the sandstone and preventing deterioration. The final stage is to apply an anti-fungal preventative treatment which can not only remove the embedded staining but also prevents the quick re growth of mould. This is tailored to your individual preference and needs, as some of our clients prefer the natural patina of aged sandstone. With over a decade of experience we can clean everything from sandstone flagstone, paving, tiles, blocks, retaining walls, cladding in new installations to historical sandstone that is over a 100 year old.
What Is Different About Our Sandstone Cleaning?
Most pressure cleaning companies use pool chlorine in the cleaning of your sandstone. The disadvantage of pool chlorine is an ineffective chemical that struggles to penetrate the surface of the sandstone and needs to be used in strong concentrations to work. It will also leave behind a microscopic layer of salt residue that deteriorates the surface of your sandstone, eroding it over time and causing a loss of moisture from within the stone leading to cracking. A Clean Approach House Washing uses a professionally tailored made cleaning agent that is designed to be effective in the penetration of the sandstone, getting down to those deeply embedded stains and helping them to lift out of the sandstone. It is also garden safe and won't leave behind any dangerous residue that will affect the surface of your beautiful stone. From  Wahroonga, Warrawee, Turramurra, Pymble, St Ives, Gordon, Killara, Lindfield, Roseville, Chatswood, Willoughby, Artarmon, Longueville, Lane Cove, Riverview, Linley Point and Hunters Hill we have the Upper and Lower North Shore of Sydney covered!
DIRTY SANDSTONE?
WITH OVER 10 YEARS EXPERIENCE YOU CAN TRUST THE PROFESSIONALS WITH YOUR SANDSTONE CLEANING NEEDS